Introduction
A cautious career planning leads to successful professional and private life. Keeping these key aspects in consideration and increasing the employment skills in students, The Training and Placement Cell of the college has been paying attention to the training of the students every year since 2008 under the able guidance of Dr. Tejinder Kaur Dhaliwal, Principal of the College. The cell plays a significant role in shaping the goals of the students. The cell organizes placements drives, career guidance and employment opportunities to the students of various streams such as Commerce, Humanities, Science and IT.
Many of our students have got jobs in reputed companies such as
Wipro
Infosys
Congnizant
Training and Placement Cell
Committee Members
Ms. Satinder pal Kaur
Member
Ms. Amanpreet Kaur
Member
To provide guidance to students and raise awareness about their career opportunities.
To suggest new approaches and techniques which pave the way for success.
To encourage students by increasing intrinsic qualities such as diligence, sincerity and ability to work hard.
To develop the right attitude and confidence among students.
To build up their communication and leadership skills.
The institution has long term planning for the guidance and placements of the students that are reflected in the perspective plans. And these initiatives are taken by the Training and Placement Cell in preparing vision plans for students. Our vision plans are:
Organize workshops to train students on personality development
Arrange pre-placement training sessions which focus on improving communication, leadership and aptitude skills of students
Organize mock interviews for students to perform well in professional interviews according to the expectation of the corporate sector
Organize group discussions to shape up the new ideas
Organizing career development programs by various prestigious organizations.
Training and Placement Cell has organized an interactive section with the cooperation of WIPRO PVT. Ltd. company on 'Career and IT sector and Corporate interface' by the exalted lecture of Mr. Ashok Sangwan, Senior Manager, WIPRO.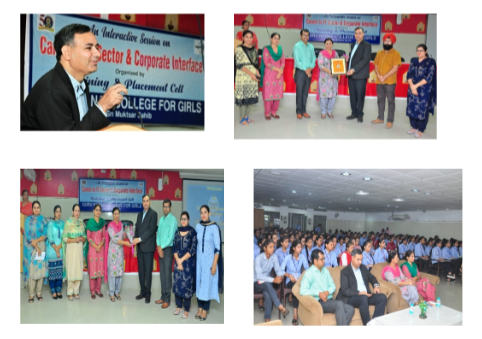 Big Congratulations to Ms. Nancy and Ms. Rakhi students of M.COM-III Sem for their placements in Ventura Securities Ltd., a leading stick brokerage firm of India. They are placed at a package of Rs. 2.5 lakhs. Best Wishes for their new and exciting journey in the Finance world